Golden Eagle String Band -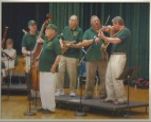 The Golden Eagle String Band has been performing in the Northeastern U.S. since 1978. The band has recorded for Smithsonian/Folkways, toured under a grant from the National Endowment for the Arts, and received a gold medal from the Smithsonian Institute as Folkways recording artists.
     The Golden Eagle String Band performs with local symphony orchestras, performing works such as, Celtic Dance Suite (see YouTube performance), Erie Canal Rhapsody (see YouTube performance), Bluegrass Concerto and the premiere of Ira-Paul Schwartz's Celtic Concerto.
    The band has performed at Mystic Seaport, CT, the U.S. Coast Guard Academy, the World Canal Conference, the National Museum of Play, the Earlville Opera House, the Market House Music Hall, the Erie Canal Museum, the Erie Canal Village, Waterloo Village (NJ) Folk Festival, the Salt Museum Folk Festival, Art Park (Lewiston, NY), Penn State (Altoona), Allegheny Portage Railroad Historical Site (Gallitzin, PA), New York State Museum (Albany, NY), Rochester Museum and Science Center,Rochester Institute of Technology, the State University of New York at Brockport, Oswego and Buffalo, Canal Days in Brockport, Spencerport, Fairport, and Palmyra, Barge Festival (Waterford, NY), , and hundreds of other venues over its 41 year history.
     Popular programs include:
       1. An Immigrant's Journey - a musical journey from Dublin, Ireland to Chicago, Illinois
             via the Irish canals, the Atlantic Ocean, the Hudson River, the Erie Canal and the
             Great Lakes.
      2. The Inland Waterways - Songs of America's rivers, canals and Great Lakes. 
      3. Songs and Stories of the Erie Canal - from the pages of Bill's book, The Erie Canal Sings.
      4. 19th Century Popular Songs - featuring the songs of Stephen Foster, James Bland,
              Henry Clay Work, George Root, Henry Russell, Civil War songs and popular
              fiddle tunes of the era.
      5. Golden Eagle Grab Bag - everything from Woodie Guthrie ("Goin' Down the Road
              Feeling Bad") to John Prine's ("Paradise"); Ragtime ("Pig Ankle Rag") to Swing
              ("Big Time Woman"); Novelty ("Wildroot Cream Oil") to Serious ("Hard Times
              Come Again No More"). Bluegrass ("Ramshackle Shack") to fiddle tunes ("The
              Reconciliation").
      6. Songs and Stories of the Civil War - the band recreates various events from the Civil War,
              such as, the scene at the Battle of Williamsburg where a general called for the the band
              to play "Yankee Doodle" in the midst of battleor the time along the Rappahanock River
              where everything went silent as a lone musician played "Home,Sweet Home." The
              program includes "Two Soldiers", "New York Volunteers", "Battle Cry of Freedom",
              "Lorena","Home, Sweet Home", "Cumberland Gap", "Flag of the Free", "Ole Abe Lincoln",
              "Dixie", "Battle Hymn of the Republic", and others, including fiddle tunes played during
               the Civil War and fife calls used in camp routine.
Mike Mumford - mandolin, concertina, banjo
Eric Carlson - guitar, harmonica
Ted Sherwood - string bass, guitar
Dwight Garrow - fiddle, mandolin, banjo
Bill Hullfish, Professor Emeritus, tin whistle, clarinet, wash board, spoons